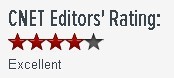 Mouse clickers are tools that click your mouse buttons automatically at preset intervals. Free Mouse Auto Clicker is a simple, no-nonsense utility that single-clicks or double-clicks your right or left mouse button at intervals ranging from hours to fractions of a second. It also starts and stops hotkeys. It runs unobtrusively, with a System Tray icon you can click to call it up.
Free Mouse Auto Clicker's user interface is very basic, with all its controls right in the layout. Don't get us wrong: Plain and simple is a fine combination in software utilities, especially those that are specifically designed to be as easy to use as they possibly can. That's Free Mouse Auto Clicker in a nutshell. The first control, Click Point, sets the software to click wherever the mouse happens to be. We tried to uncheck this box but couldn't. A premium version of this software, Advanced Mouse Auto Clicker, lets you disable this feature and set a fixed click point, as the link to the Advanced version's Help file shows. Nevertheless, the freeware tool offers customizable Click Intervals in hours, minutes, seconds, tenths of a second, and even hundredths of a second. We set a very brief interval, but plenty of time to mouse over to a target. Under Click Options, we set Mouse Button to click our mouse's left button, and then specified a Single Click under Mouse Action. We clicked Start and quickly moved our cursor to an icon. Five seconds later, the targeted program opened. Free Mouse Auto Clicker kept doing its thing until we clicked Stop. Next we set the Hotkey tool to open and close a Help file. Other than those two features, the only other control closes the program.
Free Mouse Auto Clicker is about as basic as tools of its type get. While it's very easy to use, it has some drawbacks, such as the inability to activate middle clicks on three-button mice, and of course to designate a specific button or space to click. Other freeware mouse clickers offer such options, so we suggest comparing features and matching them to your needs.